FEDERATION OF STATE MEDICAL BOARDS (FSMB)
Welcome to the FSMB Centennial Celebration | 1912 - 2012

The Federation of State Medical Boards (FSMB) is a national non-profit organization representing 70 medical and osteopathic boards with the United States and its territories. FSMB assists state boards in protecting the public's health, safety and welfare through promotion of high standards for physician licensure and regulation.
The FSMB established in 1912 as a merger of two predecessor organizations representing the interests of medical licensing boards: the National Confederation of State Medical Examining and Licensing Boards, and the American Confederation of Reciprocating Examining and Licensing Boards.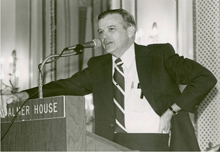 Over the course of a century, the FSMB has grown from a small annual gathering of state board executive officers with no permanent staff or headquarters to a vibrant national organization staffed by nearly 200 employees in Texas and our nation's capital.
Over the past century FSMB has grown in the range of its services to the state medical and osteopathic boards charged with protecting the public health and interests in their respective states. From assessment tools to policy documents, from credentialing to disciplinary alert services, the FSMB has served the interests of its member boards.
We invite you to explore the history of the FSMB through both our interactive timeline and a written narrative derived from research for the history of the FSMB scheduled for publication in 2012.
Click below for more information: