FEDERATION OF STATE MEDICAL BOARDS (FSMB)
The FSMB Celebrates 100 Years!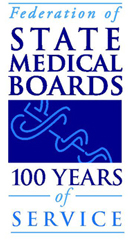 Welcome to the FSMB's Centennial website! During 2012, our organization will celebrate the vital role that the FSMB and state medical boards have played in U.S. health care over the last 100 years.
Since our founding in Chicago in 1912, the FSMB has dedicated itself to strengthening the nation's system for the licensing and regulation of physicians - with the ultimate goal of protecting the public and helping ensure the integrity of the medical profession.
During our Centennial, we will celebrate our heritage by focusing on four key themes that have shaped our history: Service, Partnership, Leadership and Innovation:
This winter, we will celebrate Service: the many ways the FSMB and the state boards serve the nation.
In the spring, we will celebrate Partnership: the strong ties that bind the FSMB with state boards and other vital U.S. health organizations.
During the summer, we will celebrate Leadership: our ongoing effort in the states and in Washington, D.C., to shape policies that benefit the public.
And in the fall, we will celebrate Innovation: the forward-looking commitment that leads to exciting new programs and initiatives for the future.
Our list of activities for the year includes a gala celebration at our Annual Meeting April 26-28 in Fort Worth, Texas; a special symposium in October in Washington, D.C., and the publication of an FSMB history book later this year. Visit this website again for more details as our Centennial continues throughout 2012.
Medical regulation and licensure is a cornerstone of the U.S. medical system. The work of the state medical boards is essential, touching the lives of virtually every patient in the United States and its territories. We are proud of the FSMB's long and rich history serving as the voice of this remarkable system of medical regulation and licensure and look forward to celebrating with our many partners this year.
Humayun Chaudhry, DO, MS, MACP, FACOI



President and CEO
Federation of State Medical Boards